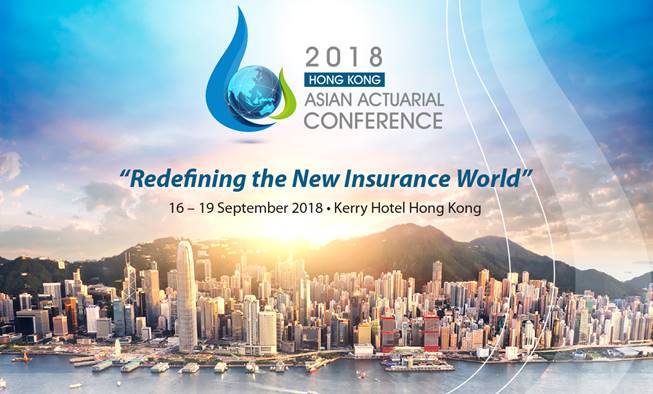 2018 Asian Actuarial Conference ‐ A Programme for All! Last 6 Days for Early Bird Discount ( Deadline : 30 June 2018)
---
2018 AAC ‐ A Programme for All!
Last 8 Days for Early Bird Discount - It's Time to Register!
The 2018 AAC programme is now available, including outstanding plenary and parallel sessions that will engage you in discussions on diverse actuarial and financial topics.

Five plenary sessions with esteemed speakers from both Asia and beyond to share insights on "Belt and Road", "InsurTech", "Risk Management in the New Insurance World - C-suite Round-Table Discussion", "Market Outlook and Investment Strategy for Insurance Companies" and "Future of Actuaries & Professionalism".

Over 25 selected presentations from international practitioners and academics featuring latest developments and trends facing the insurance world:

IFRS 17 System Implementation


Dr K S Park, RNA Analytics
Interest Rate Guarantees under ICS/Solvency II

‐

Don

'

t Let Your Legacy Book Disturb You!


Dr Gunter Schwarz, Munich Re

Operationalising IFRS 17 - What are the Practical Challenges?


Mr Simon Dai, Deloitte

Pillar 2 for Insurers: Greater Requirements, Enhanced Value?


Mr Michael van Vuuren, KPMG

The Multiple RBC Regimes Redefining the New Insurance World


Ms Florence Ng and Mr Han Chua, EY

Biological Age Model - A Bright New Light in Customer Engagement


Mr Jason Tan, SCOR

Crossing the Chasm: Why the Power of Data and Actuarial Science will Transform Intermediated Distribution across Asia


Mr John Brisco, Coherent Capital Advisors

Online Insurance Development in China


Mr Guangyue Zhu, Gen Re

Product Innovations in Korean Life Insurance Market


Mr Dong Wook Noh, ING Life Korea

Where Cyber Security Meets Insurance: Challenges Presented and Opportunities Created


Mr Josh Pyle, CyberCube

Actuaries and Digital Insurance Innovation


Mrs Anita Sathe, CoverHound
Future Diagnostics

‐

What Impacts will Liquid Biopsy and other Imaging Techniques have on the Sustainability of Living Benefit Products? Is a Fundamental Rethink Required?
Mr Lawrence Tsui, Swiss Re
Predictive Analytics

‐

Modelling and Execution: The Opportunity Emerging from the Data Revolution and Technology Innovations
Mr Lee Sarkin, Munich Re

The Data Scientist: Actuary 2.0


Mr Wern Liang Ding, Swiss Re

The Rise of the Exponential Actuary


Mr Darryl Wagner, Deloitte

Longevity Risk in a One-Year VaR Framework: Proven Solutions and Future Possibilities


Dr Kenneth McIvor, Willis Towers Watson

Managing the Model Risk of Actuarial Models


Mr Andrew Waters, Moody

'

s Analytics

Redefining Investment for the New Insurance World: New Business Models, Asset Classes and Solutions-based Investment Approaches


Dr Bruce Porteous, Aberdeen Standard Investments

Constructing Out-of-the-Money Longevity Hedges using Parametric Mortality Indexes


Prof Johnny Li, University of Waterloo and University of Melbourne

Digital Health - Opportunities in Accelerated and Dynamic Underwriting


Mr Thomas Dijohn, Dacadoo

Dread Disease Experience in Asia and Emerging Risks in Dread Disease


Mr John Ferguson, Gen Re

Swiss Re Asia Health Protection Gap 2018


Mr Stephen Kwan, Swiss Re

The Relative Importance of Genetics for Predicting Mortality and Morbidity Risks


Dr Richard Russell, RGA

How Financial Wellness is Perceived and Addressed In Asian Pension Markets: A Comparison of Japan and the Philippines


Mr Tomohiro Kawaguchi, Mercer

Insights into Retirement Risks and Opportunities in Asia Pacific Markets


Mr R. Dale Hall, Society of Actuaries

Insurance Solution for Ageing Population


Mr Perkin Shek, AXA

You should be able to find many sessions of your interest. Be sure to check out the conference website at www.aachk2018.org for frequent updates.
Be part of this exceptional conference! Don't wait, register now to lock in the best possible rates as early-bird closes on 30 June.
2018 AAC Conference Secretariat - c/o Connexus Travel Ltd
Tel: (852) 3151 8900
Fax: (852) 2590 0099
Email: info@aachk2018.org
Website: www.aachk2018.org