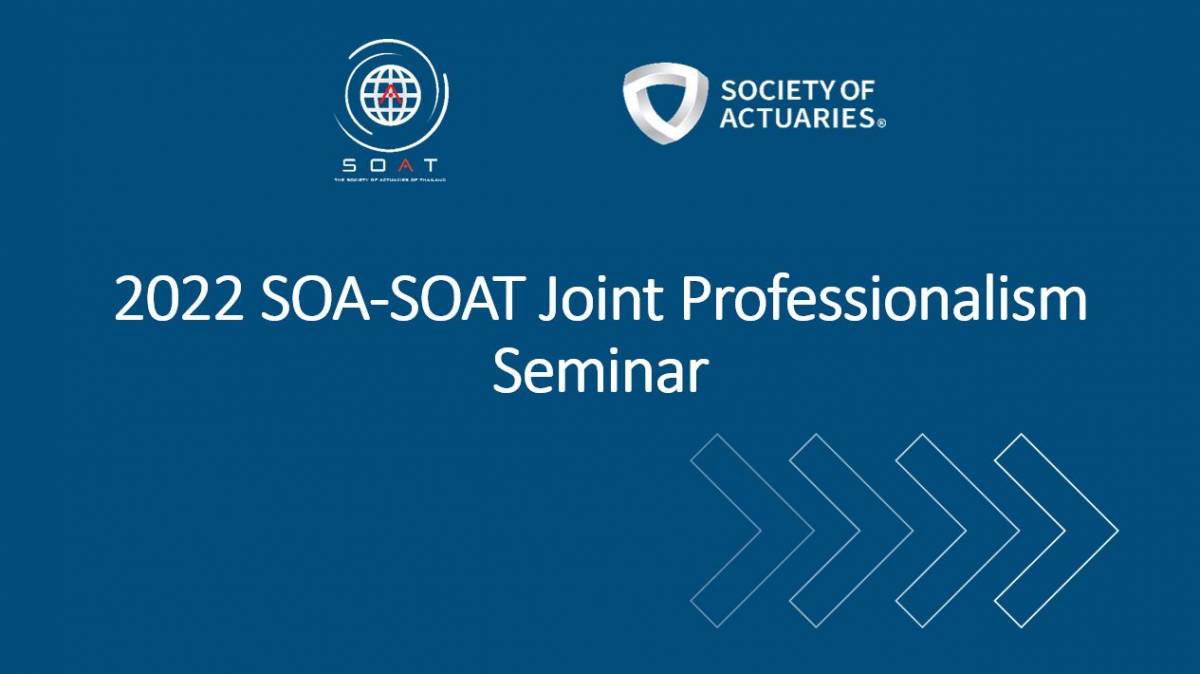 2022 SOA-SOAT Joint Professionalism Seminar
---
Welcome to the 2022 SOA-SOAT Joint Professionalism Seminar, held on 29 Nov. 2022, in partnership with the Society of Actuarial of Thailand (SOAT). This seminar will be held in Bangkok physically and covers professionalism content, including data engineering and cloud computing, case studies around interpersonal relationships, workload, and data insights in non-actuarial world, as well as panel discussion with insights to be shared from regulator and senior actuaries. Do not miss out on this wonderful opportunity!
The seminar offers:
· Professional sessions that will help attendees better prepare for future developments
· An opportunity to earn valuable CPD credits in a variety of practice areas with professionalism CPD hours
· The chance to meet and network with industry leaders in person
· Seasoned speakers and experts that share their professional insights about the future of the industry
Audience Experience Level: All levels of actuaries and interested practitioners are welcome to attend this event.
Target Audience:
Actuaries, insurance, finance and other industry professionals practicing in Thailand and all interested professionals from around the world.
Primary Competencies: External Forces & Industry Knowledge, Leadership, Results-Oriented Solutions, Strategic Insight & Integration, Technical Skills & Analytical Problem Solving.
Date & Time: Tuesday 29th November 2022, 08.30 - 13.30
Venue: AIA Leadership Centre, 3/F, 11/1 South Sathorn Road, Yannawa Sub-District, Sathorn District, Bangkok 10120

Registration
Please register here by 16 November:
https://docs.google.com/forms/d/e/1FAIpQLScfSSbeOx7v9c5o8kSWYAmt6LT2BZuG-z8DKd1YbBjQ3s2IYg/viewform
Registration fee:
SOA / SOAT Member THB 2,400
SOA / SOAT Non-Member THB 3,600
*(VAT included, withholding tax is not deductible.)