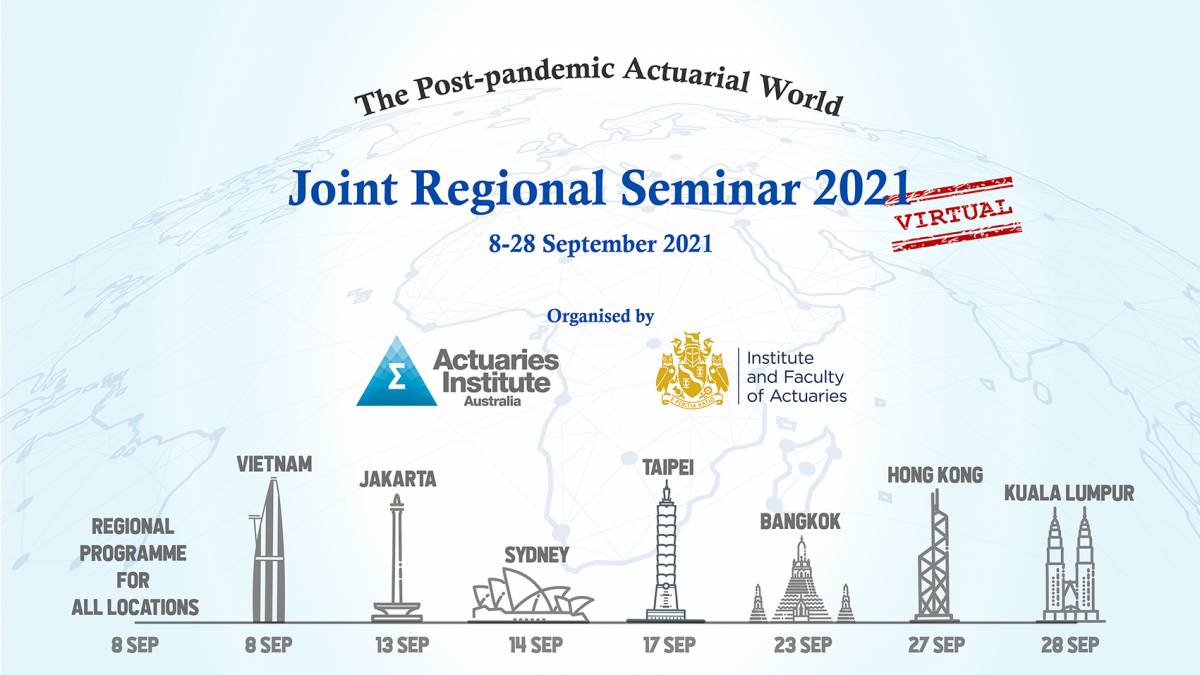 JOINT REGIONAL SEMINAR 2021
---
JOINT REGIONAL SEMINAR 2021
"The Post-pandemic Actuarial World"
Wednesday 8th & Thursday 23rd September 2021
Virtual Seminar
 ---------------------------------------------------------------------------------------------------------------------------------
Dear all,
The Society of Actuaries of Thailand is delighted to invite you to "Joint Regional Seminar 2021" as detail below:
Objective:  The Joint Regional Seminar (JRS) is an annual event co-organized by the Institute & Faculty of Actuaries, Actuaries Institute Australia and Society of Actuaries with the support of the local actuarial societies in the region. It is designed to assist actuaries and other professionals in meeting their CPD requirements. We took a break last year and now we are back.  We hope you have been keeping well.  For the safety of our participants during COVID times, the Organising Committee has decided to run a virtual JRS instead.  A half-day regional programme will be presented in the afternoon on 8 September 2021 hosted virtually in Hong Kong for all participants from the Asia region.  SOAT will virtually host the half-day programme in Bangkok on 23 September 2021.
The Seminar:  The COVID-19 pandemic has presented unprecedented challenges and evolving risks in a rapidly changing regulatory environment for the insurance industry.  The pandemic's implications for the industry will have largely been felt through many aspects of the business - muted earnings, investment portfolio stress, escalated mortality claims, distribution difficulties, operational and workforce disruptions, and much more.  To weather the crisis and uncertainties and keep up with the evolving regulatory, technological and business landscapes, actuaries have a significant role to play in helping the industry adapt to a post-pandemic world.  Hence the theme of JRS 2021 is "The Post-pandemic Actuarial World".  To register for the JRS, please visit the local association's website for details.
Some key topics in the Hong Kong JRS are:
        v Artificial Intelligence: Approaching the Next Frontier of Life Insurance (by Deloitte)
        v Is Increasing Lung Cancer in Young Females an Emerging Risk for Life Insurance? (by Swiss Re)
        v What Makes a Happy Customer? (by SCOR Global Life)
        v What can Asian Insurance Markets Learn from European Sustainable Investment Practice? (by Aberdeen Standard)
Some key topics in the Bangkok JRS are:
        v Beyond Pandemic: The Road Ahead for Product Innovation in Thailand (by Swiss Re)
        v Looking Forward to the Future of Thai Insurance Industry: Regulatory Perspectives Linking to the Growing Needs for Health Protection (by Office of Insurance Commission)
        v Uncertainty in Economic Conditions in Post-Covid World (by Moody's Analytics)
        v Development of Chinese Specialty Drug Insurance (by China Reinsurance Co)
        v Augmenting Underwriting and Claims with AI (by Munich Re)
Theme:              The Post-pandemic Actuarial World
Date &Time:     Hong Kong: Wednesday 8th September 2021, 12.45 – 16.30
   Bangkok: Thursday 23rd September 2021, 13.00 – 17.00
Location:          Virtual Seminar
Seminar Fees:        2 day at THB 2,000 OR 1 day at THB 1,200 / person for SOAT Member*
                            2 day at THB 3,000 OR 1 day at THB 1,700 / person for Non-SOAT Member*
                                        Remarks:    -In case you wish to join a one-day programme on 23 September 2021.
                                                      -VAT included, withholding tax is not deductible  
Deadline for registration:  31st August 2021
For more information, please kindly see the brochure as attached.
If you have any questions, please feel free to contact Ms.Oraphan Tel (668) 559-4555 or oraphan.panit@soat.or.th