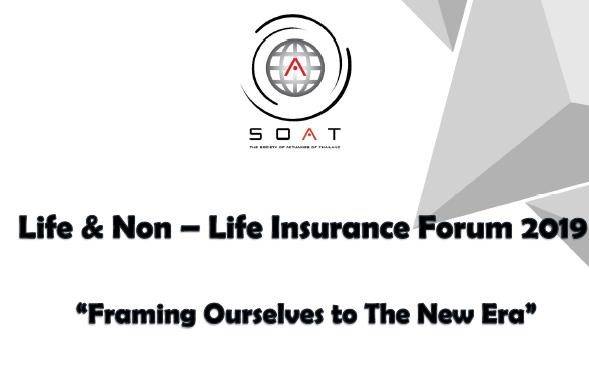 LIFE & NON - LIFE INSURANCE FORUM 2019
---
"Framing Ourselves to The New Era"
Wednesday 02nd October 2019
At Ballroom 1 @S31 Hotel, Bangkok
---------------------------------------------------------------------------------------------------------------------------------
Dear all,
The Society of Actuaries of Thailand is delighted to invite you to "Life & Non-life Insurance Forum 2019" as detail below:
Objective: Life Forum and Non-life Forum are major annual events of the Society of Actuaries of Thailand (SOAT). They are organized to be a venue, basically, for actuaries and actuarial-related practitioners, to learn and to keep up with market trends, new knowledges, and information that are essential for personal development. Both forums are qualified for CPD requirements. This year, the Life Forum and Non-life Forum are combined into one single day event under the Theme of "Framing Ourselves to The New Era" which will be taken place on Wednesday 2nd, October 2019.
Introduction: Nowadays insurance companies are facing more critical and significant changes - Digitalization changes, Regulatory & Economic changes and Customer behavior changes. Every insurance company, has to rapidly adapt themselves to these changes. The common solutions as we know such as data analytic, regulatory reporting, new innovative products and response to new technology, definitely help mitigate evolving risks and slow down those changes. However, actuary always looking for better and better solutions. Thus, this year SOAT aim at build up all actuaries to keep pace with these changes and ready prepare for manage those uncertainty.
Attendance at the Forum is qualified for CPD requirements of Actuaries Institute Australia / IFoA / SOA up to a maximum of 6 CPD hours
Theme: "Framing Ourselves to The New Era"
Date &Time: Wednesday 02nd October 2019, 08.30 - 17.00 hrs.
Location: Ballroom 1 @S31 Hotel, Bangkok
Seminar Fees*: SOAT Member THB 3,500
SOAT Non-Member THB 5,000
*(VAT included, withholding tax is not deductible.)
Deadline for registration: Friday 27th September 2019
For more information, please kindly see the brochure as attached. If you have any questions, please feel free to contact Ms. Oraphan Or Ms. Thanaporn Tel: (668) 0559-4555
Or Oraphan.panit@soat.or.th , thanaporn.nakson@soat.or.th